CS671: Probabilistic Agent Learning (Spring 2019)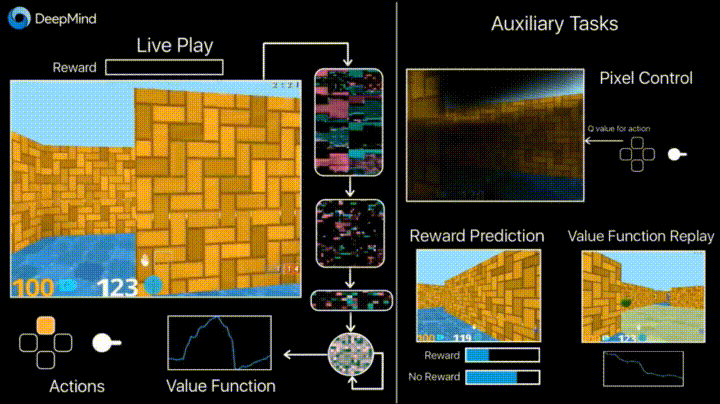 [Image from https://deepmind.com/blog/reinforcement-learning-unsupervised-auxiliary-tasks/]
Instructor
Sungjin Ahn
Description
This seminar course c

overs recent advances in deep & probabilistic generative approaches for agent learning. This includes (1) fundamental advances in probabilistic generative modelling, mostly based on variational inference, and (2) its applications to designing various cognitive abilities such as imagination, exploration, and planning 

for a probabilistic agent. 

This includes topics such as structured latent representation learning, spatiotemporal models for future imagination, reinforcement learning as probabilistic inference, exploration/intrinsic motivation, hierarchical option discovery, meta/continual learning, model-based learning, and so on. 
Time and Location 


Pre-requisites
- Machine Learning
- Understaning on Bayesian inference
- Reinforcement Learning


Expected Work
Reading papers, participating on/offline paper discussion, oral presentation, and final project
Grading
Written reactions to the reading (15%)

Participating in discussions (15%)
Oral Presentation (20%)




Final Assignment
Course Policies
Schedule and Overview of Topics
Fundamentals of Variational Inference

VAE, Gumbel-Softmax, REINFORCE, BNN

Temporal Models
Exploration/Intrinsic Motivation/Options

VIME

Variational Intrinsic Motivation

Variational Option Discovery
Diversity is all you need
Stochastic Neural Networks for Hierarchical Reinforcement Learning
Probabilistic inference for determining options in reinforcement learning

Principled Option Learning in Markov Decision Processes
Multi-level Discovery of Deep Options
L EARNING AND P OLICY S EARCH IN S TOCHASTIC DYNAMICAL S YSTEMS WITH BAYESIAN N EURAL N ETWORKS

Imagination - 1
Representation Learning

Beta-VAE
SCAN
DARLA
Representation Learning with Contrastive Predictive Coding

Structured Perception
GQN for 3D Representation Learning 

GQN
CGQN
(Conditional) Neural Processes
Attentive Neural Processes

Meta/Continual Learning

Neural Statistician
Generative Matching Network
Variational Continual Learning

Episodic Memory
Probabilistic Reinforcement Learning

Reinforcement Learning and Control as Probabilistic Inference ...

Navigation and Space Learning

EMERGENCE OF GRID-LIKE REPRESENTATIONS BY TRAINING RECURRENT NEURAL NETWORKS TO PERFORM SPATIAL LOCALIZATION 
UNSUPERVISED EMERGENCE OF SPATIAL STRUCTURE FROM SENSORIMOTOR PREDICTION

Language Grounding
Detailed Schedule and Readings
Total 14 classes (each 3 hours)
1/24 Introduction and Overview
1/31
2/7
2/14
2/21
2/28
3/7
3/14
3/21 No Class - Spring Recession
3/28
4/4
4/11
4/18
4/25
5/2